The Pennsylvania affiliate of the Council on American Private Education (PACAPE) is proud to announce the winners of the 2019 PACAPE Private School Teacher, Administrator and School Awards. As the representative of approximately 85 percent of the students in private schools in Pennsylvania, PA-CAPE established the awards ceremony to elevate the status of private education in the eyes of the communities they serve as well as the Pennsylvania legislature. There were many excellent candidates nominated for these awards, all of whom provide an outstanding example of how Pennsylvania Private Schools are changing the lives of students both in and out of the classroom. We would like to recognize and congratulate the following individuals for winning this year's Teacher/Administrator Awards.
Matthew Sullivan - Early Education Teacher (Gladwyne Montessori School)
Cheryl Kestner - Elementary Teacher (Mary Queen of Apostles School)
Donald Militzer - Early Childhood & Elementary Administrator (St Gabriel of the Sorrowful Virgin School)
Debbie Azevedo - Secondary Education Teacher (Cedar Grove Christian Academy)
Kristen Lloyd - Music Education Teacher (Johnstown Christian School)
Mary Claire Kasunic - Secondary Education Administrator (Oakland Catholic High School)
These teachers and administrators have a personal testimony that reinforces the overall significance of private school educators and leaders; we congratulate and thank them for the impact they make in their classrooms, schools, and in the lives of each of their students.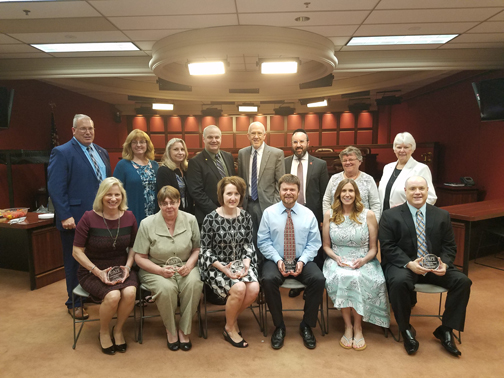 Award Recipients and PA CAPE Leaders at the awards ceremony in Harrisburg.